Monitoring Novel COVID-19 Outbreak
Providing a Safe and Secure Environment for Your Events
Updated March 1, 2021:
Phase 3, Step 2 of Governor Baker's reopening plan started on Monday 3/1, which means:
Indoor performance venues such as concert halls, theaters, and other indoor performance spaces will reopen at 50% capacity with 500 person max
Indoor recreational activities with greater potential for contact: laser tag, roller skating, trampolines, obstacle courses will reopen at 50% capacity

Updated capacity limits of 50% for:

Arcades & Other Indoor and Outdoor Recreation Businesses

Close Contact Personal Services

Driving and Flight Schools

Fitness Centers and Health Clubs

Golf Facilities (indoor)

Libraries

Operators of Lodging (common spaces)

Museums, Cultural & Historic Facilities, Guided Tours

Office Spaces

Places of Worship

Sectors not Otherwise Addressed

Theaters and Performance Venues

Relevant EEA Industries – Youth Sports Spectators etc.
Restaurants are no longer be subject to capacity limits, but the requirement for 6 feet between tables will still be in place.
The latest COVID-19 information and resources for travelers are available at https://www.bostonusa.com/covid-19/
Updated July 9, 2020:
New coronavirus cases and hospitalizations in Massachusetts have been steadily declining which allowed for Phase 3 of the state's reopening plan to begin on Monday, July 6. Boston will officially enter the phase next week, on July 13, as city officials have asked for additional time to prepare.
In Phase 3, the maximum occupancy limit for indoor gatherings increases to 25 people. Outdoor gatherings in enclosed spaces are limited to 25 percent of the facility's maximum permitted occupancy, with a maximum of 100 people in a single enclosed outdoor space.
Additional businesses are also permitted to reopen with limited capacity, increased cleaning and, further restrictions:
Movie theaters and outdoor performance venues
Museums, cultural, and historical sites
Fitness centers and health clubs
Indoor recreational activities with low potential for contact
Professional sports teams, under the authority of league-wide rules, may hold games without spectators
Updated June 22, 2020
After the successful implementation of the first step of Phase Two, Governor Baker gave the green light to indoor dining and close-contact personal services starting Monday, June 22.
The next phase is scheduled to begin no earlier than July 6 if public health metrics continue to improve.
Updated June 11, 2020
On June 8, Massachusetts officially entered Phase Two of its reopening plan thanks to a declining number of new COVID-19 cases and hospitalizations.
Phase Two will be executed in two steps with the first one allowing outdoor dining, in-store retail operations, and lodging accommodations, in addition to other sectors. The second step will expand to indoor dining and close-contact personal services like massage therapy and nail salons. The date for that step is still to be determined based on public health indicators throughout the state.
As of Monday, June 8:
Restaurants are allowed to serve diners outdoors with tables 6 feet apart and away from high foot traffic areas. The limit per table is six people and customers are required to wear face coverings.
Beer gardens, breweries, wineries, and distilleries are also allowed to start up again, but only if they provide seated food service.
Dining establishments can continue providing carry-out or delivery service, but all safety standards for table separation, size of party, and hygiene must be maintained for any indoor or outdoor table seating that is available to carry-out patrons.
Most retails stores can open at 40% of maximum occupancy or at 8 people per 1,000 square feet.
Hotels and other lodgings are allowed to start reopening, but they cannot host weddings, functions, or business meetings.
Updated May 19, 2020
On Monday, May 18, Governor Baker announced his reopening plan for Massachusetts. The plan is the result of the work of a Reopening Advisory Board which was created on April 28 and is made up of state officials, municipal leaders, and selected business leaders.
The plan has four phases and each one is scheduled to last a minimum of three weeks. The start dates for each phase, however, are fluid: any of the phases could be extended (or even revert to a previous phase) based on public health metrics in the state.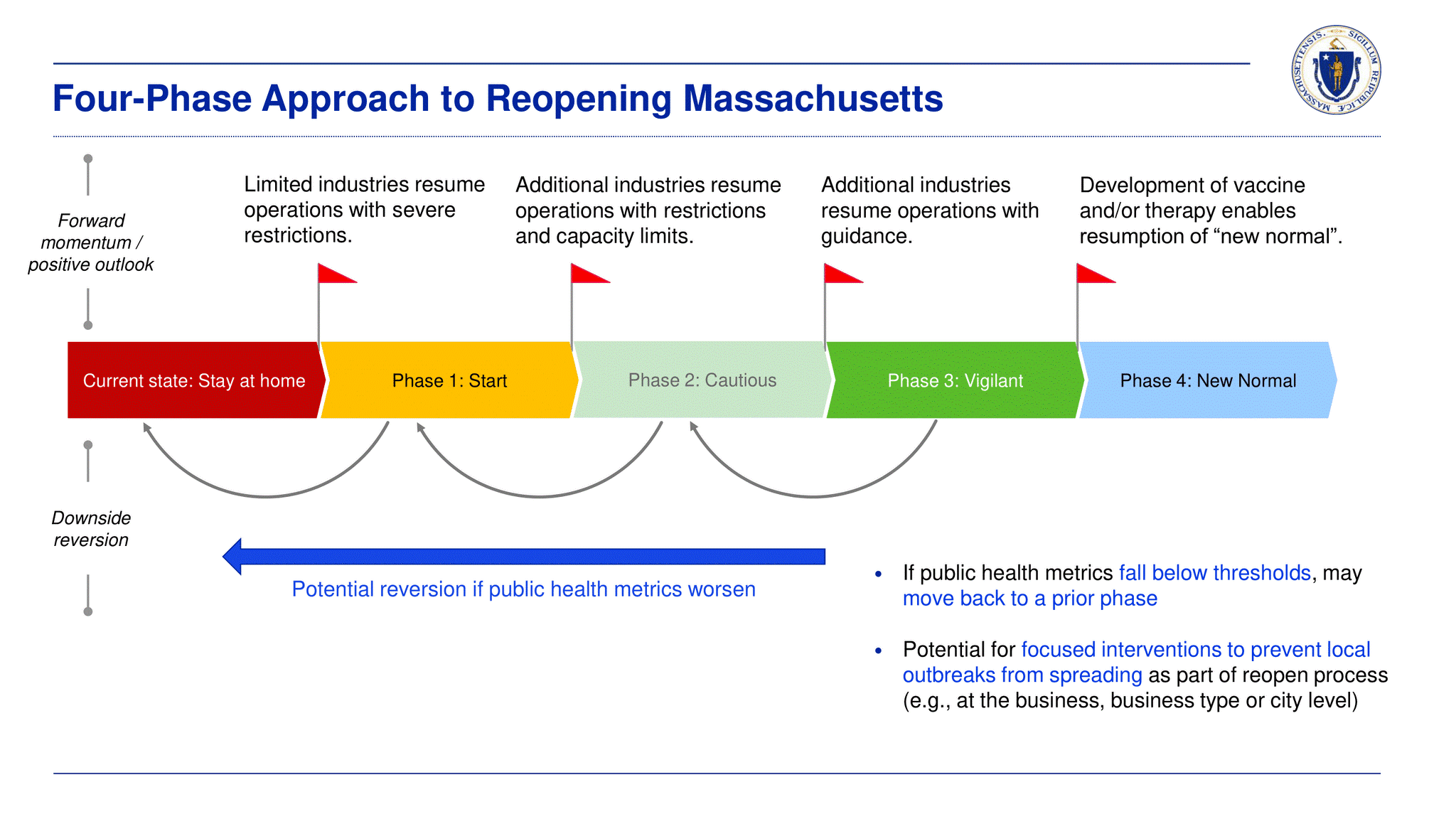 Phase One: Start
Houses of worship may open with outdoor services being encouraged
Essential businesses, manufacturing, and construction
Hospitals and community health centers will be allowed to provide high-priority preventative care, pediatric care, and treatment for high-risk conditions
Personal care services like hair care, pet grooming, and car washes (after May 25)
Retail stores with remote fulfilment and curbside pickup
Lab and office space (except those in Boston, which can reopen after June 1)
Beaches, parks, drive-in theaters, some athletic fields or courts, outdoor adventure activities, most fishing, hunting, and boating
Outdoor gardens, zoos, reserves, and public installations
Phase Two: Cautious
Starts after June 8
Retail, restaurants, lodging, and additional personal services such as nail salons or day spas with restrictions and capacity limitations
Outdoor recreation areas including campgrounds, playgrounds, spray decks, community pools, and all athletic fields
Phase Three: Vigilant
Begins no earlier than June 29
Bars, casinos, fitness clubs, and museums.
Youth sports, games, and tournaments with limited crowd size
Phase Four: New normal
Full resumption of activities for houses of worship, health care services, outdoor recreation, and large venues
Updated Wednesday, April 7
Last Friday, April 3, it was announced that the Boston Convention & Exhibition Center (BCEC) will be transformed into a COVID-19 field hospital officially known as BOSTON HOPE. The BCEC's Engineering & Maintenance Team started work immediately to support the efforts of the Massachusetts Emergency Management Agency (MEMA) and the City of Boston in transforming the BCEC into a 1,000-bed hospital facility. The MCCA has also increased public safety measures to provide additional support.
Updated March 23, 2020:
The Massachusetts Convention Center Authority ("MCCA") continues to diligently monitor the COVID-19 outbreak and is following the recommendations set forth by Massachusetts Governor Charlie Baker:
On March 10, Governor Baker declared a state of emergency to give the Administration more flexibility to respond to the Coronavirus outbreak.
On March 13, Governor Baker issued an emergency order prohibiting gatherings of 250 people or more.
On March 15, Governor Baker issued an emergency order limiting gatherings to 25 individuals and prohibiting on-premises consumption of food or drink at bars and restaurants, effective until April 6.
On March 23, Governor Baker issued another emergency order limiting gatherings to 10 individuals and requiring all businesses and organizations that do not provide "COVID-19 Essential Services" to close their physical workplaces and facilities to workers, customers and the public.
If you have any questions or concerns, please contact your dedicated sales manager.
In the meantime, the MCCA continues to work closely with city, state, and federal authorities, including the Commonwealth's Department of Public Health, the City of Boston's Public Health Commission, World Health Organization, and Center for Disease Control and Prevention to ensure the most appropriate response to the situation.
Thank you for your patience during this difficult time.
March 9, 2020:
In the midst of the novel coronavirus outbreak, experts have confirmed that the Commonwealth of Massachusetts and the City of Boston remain at low risk at this time. The BCEC and the Hynes are open for business and we are taking the necessary and additional steps to ensure your event's risk is as low as possible.
Facility and cleaning preparedness
The deployment of Hand Sanitizing Stations in public areas has increased by 75% by means of liquid dispensers and disinfecting wipe stations. In addition, the Massachusetts Convention Center Authority (MCCA) offers liquid hand sanitizer in all of its restroom. View a complete list of BCEC sanitizer locations.

Enhanced public space and restroom cleaning and disinfection efforts are ongoing. Cleaning efforts and staff levels have doubled during event hours with dedicated teams concentrating on all touch points (door handles, elevator buttons, escalator handrails, and restroom surfaces), which are cleaned prior to show opening and continuously during event hours.

The cleaning staff has received additional training on the preventative cleaning measures necessary to halt the transmission of the virus on common surfaces, and personal protection measures needed to safely perform during their workday.

The number of complete air exchanges through the HVAC programming controls within each facility has increased.

Our facilities have EPA-certified, hospital-grade disinfectants in line with the CDC guidelines that disinfect surfaces in 60 seconds.

All Digital Displays are playing flu prevention messaging.

Signage and posters have been placed in back of house areas to remind staff of good hygiene.
FAQ
Are the BCEC and the Hynes following PH/WHO policy and guidance? Are the venues engaged with local health departments?
The MCCA, along with our partner vendors and agencies, are following the guidelines set forth by the CDC and World Health Organization (WHO).

The MCCA is engaged in weekly meetings and conference calls with the first responder community and local health departments (Boston Public Health, Massachusetts Department of Public Health, Boston EMS, MassPort, and the CDC).
Do the BCEC and Hynes have hand sanitizing available? Where? How many units? Are additional units being deployed?
The MCCA has hand sanitizing stations in every bathroom and throughout each facility. View a complete list of BCEC sanitizer locations.

Additional sanitization stations will be deployed throughout each facility to help support events.

At any given time there are approximately 40-50 stations active at the BCEC and 10-20 stations active at the Hynes.

The MCCA has installed additional sanitizer stations across the BCEC and the Hynes, as well as disinfecting wipe stations.
Have the BCEC and the Hynes enhanced their public space and restroom cleaning and disinfection efforts? Do the venue cleaners re-wipe (with disinfectant) high-volume touch-points for areas each is responsible for including catering areas, surfaces, handrails, restrooms, entrances/exits, public touch screens, door handles, flat surfaces, etc… along with the use of the correct cleaning/sanitizing materials and products?
The MCCA Building Services Team is trained in both normal cleaning procedures as well as disinfecting and decontamination procedures. Our staff is fully trained on the proper techniques to prevent transmission of viruses such as the flu.

The MCCA is diligent about cleaning the BCEC and the Hynes thoroughly, including restrooms and public spaces.

Many of the surfaces in our restrooms are touch-free, using automatically flushing toilets and hands-free faucets and paper towel dispensers.

The MCCA uses sophisticated cleaning products and cleans all surface areas every 30 minutes during event hours including, but not limited to: lavatory fixtures, paper towel dispensers, vanity tops, mirrors, and door handles.
Do the BCEC and the Hynes hold briefings for its staff on good hygiene, including posters/signage for staff in back of house areas?
The MCCA briefs all departments on proper hygiene and flu prevention continuously throughout the year, including information on COVID-19 coronavirus.
Additionally:

The MCCA provides staff and contractors seasonal flu shots.

The MCCA works closely with our F&B contractor, and other contract partners, to ensure they are following the proper guidelines for employees in their respective areas of oversight.

The MCCA has also deployed posters created by the CDC, Massachusetts Department of Public Health, and Boston Public Health through all of our facilities, both in back of house area restrooms and in front of house area restrooms to be visible to our staff, customers, and visitors.

These signs have also been put on the MCCA Digital Signage Network throughout our venues for additional visibility.
Do the BCEC and the Hynes have any signage or messaging on Coronavirus, hygiene, and sanitization in plain sight for customers/visitors?
There is signage in all of the bathrooms created by the CDC, Massachusetts Department of Public Health, and the Boston Public Health Commission. Additionally, we are currently showing a Flu Prevention poster created by Mass.gov on all of our Digital Displays.
Do the BCEC and the Hynes have a permanent first aid station? How often/when is it staffed? If so, are the EMTs/first aid staff trained to recognize, treat and process Coronavirus cases?
The BCEC does not have permanent first aid station, however, every event has Boston EMS coverage and a first aid room is designated in advance of the event by the client and the MCCA based on event activity, set-up, and attendee flow. If needed, additional medical locations can be added.

The Hynes has a permanent first aid room on the Main Plaza. If needed, additional medical locations can be added.
Should someone with Coronavirus symptoms be identified or self-report upon entering the BCEC or the Hynes, are there response protocols in place (vs. bringing them to a first aid station within the venue)?
Are there any other protocols in place to combat/prepare for/respond to Coronavirus?
The MCCA, along with our local, state, federal partners, and medical community, continue to prepare and share information daily.
Procedures are continuously reviewed with our internal teams and information is being shared with our contractors and staff as needed.
Guidelines
Please continue to follow the guidelines set forth by the CDC and World Health Organization and share with your own staff and event attendees:
Get a flu shot.

Wash your hands often with soap and water for at least 20 seconds, especially after going to the bathroom; before eating; and after blowing your nose, coughing, or sneezing.

Avoid shaking hands and consider other greetings like an elbow bump or a fist bump, or even just a wave.

Avoid close contact with people who are sick.

Avoid touching your eyes, nose, and mouth.

Avoid sneezing or coughing on exposed skin. If this happens, immediately disinfect the area.

Cover your cough or sneeze with a tissue, then throw the tissue in the trash.

If you are sick or diagnosed with the flu, stay home
The MCCA continues to work closely with clients, contractors, and exhibitors for our upcoming events across our venues. We will continue updating you on the situation as more information becomes available. In the meantime, please don't hesitate to contact your Sales Manager with any questions or concerns.
Industry Resources